BIOSPHERICALLY CORRECT BIOSPHERICALLY CORRECT BIOSPHERICALLY CORRECT BIOSPHERICALLY CORRECT
BIOSPHERICALLY CORRECT BIOSPHERICALLY CORRECT BIOSPHERICALLY CORRECT BIOSPHERICALLY CORRECT
Biospherically Correct
A new global perception concerning our relationship with everyday products and services.
Imagine a world where commercial products have been superseded by Biospherically Correct 'services' that operate in synchronicity with nature to provide all that we need. Where everything you buy, or are supplied with, can be trusted as enhancing the health and beauty of the Earth, its species and its people.

Visualise a model of business where all companies, through their 'services', positively influence and contribute to the well- being of their employees, clients, local/ global communities and each part of the natural world that their organisations touch.
A new paradigm that encompasses an understanding of the phenomenally powerful natural systems that are integral to our global environment and the people who depend on it.  
Whereby every 'service' you engage has been discerningly crafted using Biospherically Correct principles that ensure an elevated social and environmental ethos underpins their entire cradle to cradle cycle: materialisation, function and end of life bio-integration.
Biospherically Correct services that gracefully interlock with our greater Biomimic Economy and perfectly compliments our ultimate Biofeelia Life Style.

Biospherically Correct services that have the potential to change the course of the world by emulating nature's key operating principal of ecological homoeostasis and subsequently provide better lives for all through balance.
Biospherically Correct – it's time to reconnect.
Biospherically Correct helping to establish –  A Successful Planet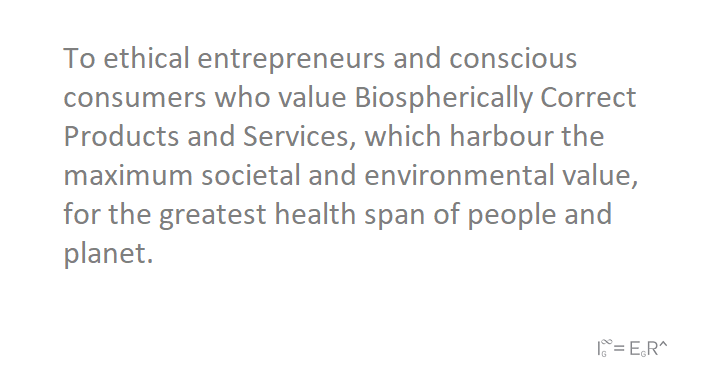 Charter
4. All human design (goods, services and built form) must synchronise and integrate with the systems of the earth's biosphere.